What is hip arthritis?

Arthritis means an inflamed painful joint. There are many different types of arthritis. The cause of osteoarthritis is multifactorial: genetic factors, poor development of the hip joint, childhood conditions, past injury or fractures and overloading the joint contribute to the development osteoarthritis.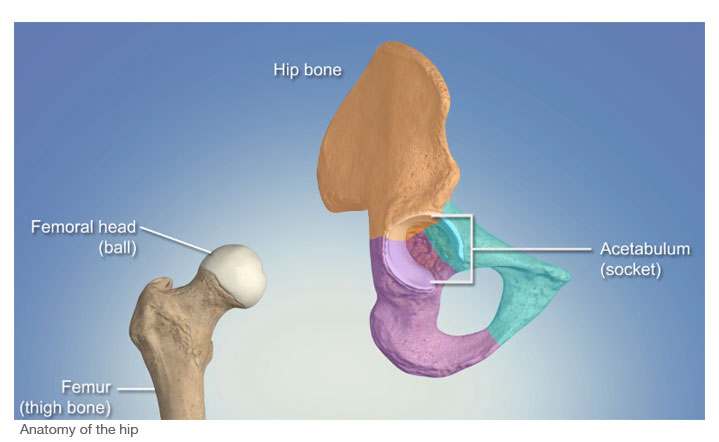 The most common type is the degenerative type, where the articular cartilage (the joint lining) wears away and the underlying bone is exposed and the gap between the two sides of the joint is reduced or completely lost. The anatomy of the hip is that it is a ball and socket joint and this becomes deformed, restricting the movement of the joint as well as causing pain and disability.


What are the symptoms of hip arthritis ?
Stiffness of the hip joint and reduced movement, both these come on gradually over many years.
Pain in the hip, buttock area, outer aspect of the hip going into the groin and sometimes pain is felt in the knee joint.
Pain may present at rest and made worse with activity.

There may be difficulty in:
• Walking, putting shoes and socks on, cutting toe nails and getting dressed.
• Getting in and out of the car, bath and climbing stairs and going down stairs.
• Overall activity and walking distance is reduced.
• You may feel the bones rubbing / grating together.
• Sleep can be disturbed and morning stiffness.
• Not being able to work.


What investigations are needed?
X rays of the hip joint
Additional investigations may be required in individual cases.

How can it be managed?
Initially conservative measure are utili sed to help with the pain and disability which include:
• Activity level and lifestyle can be modified
• Weight loss reduces load on the joint and can improve symptoms
• Diet, foods rich in Omega-3, may reduce inflammation or even the signs of arthritis.
• Physical therapy and regular non-impact exercise.
• Using a walking stick in the opposite hand
• Simple painkillers, anti–inflammatory medication and supplements can be of help.
• Hip joint injection with a steroid and local anaesthetic and or Hyaluronic acid (viscosupplements) an artificial synovial fluid these are carried out under X ray control. These may be of help, as well as confirming the pain is from the hip joint.
When all these interventions fail hip replacement may be the next option.

What does the surgery involve?
The hip replacement, replaces both the ball and socket of the hip joint.
Surgery is carried out most commonly under a spinal anaesthetic with sedation.
After surgery you be monitored and pain controlled. You will be taken back to the ward when stable and kept under observation.
You will mobilise the same day or certainly the next day with the physiotherapists and progress each day. You will be ready to go home usually day 2 or 3 after surgery, when you feel confident and able.


What are the risks?
All operations and intervention carry a risk. Measures are taken to reduce these risks and early mobilisation, antibiotics, compression stockings and blood thinning medication.
General risks:
• Anaesthetic
• Cardiac
• Respiratory
• Stroke


Risks specific to the operation:
• Infection – wound and deep joint
• Thrombosis – legs (DVT)
• Pulmonary embolism (PE)
• Dislocation of the hip replacement
• Leg length difference
• Intraoperative fracture
• Nerve and vessel damage
• Sensitive wounds
• Residual pain
• Wearing out of the bearing surface
• Implants becoming loose / Revision surgery

What are the outcomes of hip replacement?

It is generally acknowledged that the results of total hip replacement both functionally and in terms of longevity are very good and can life changing The majority of patients have improvement of pain and most patients get back to day-to-day activities. Many are able to return to work, exercise and play non-impact sports. Range of movement and function tend to be improved.  Functional results are maintained over time. With present day materials, bearing surfaces and surgical techniques, there is a 90% chance that your hip will be functioning well at 10 years from the time of being replaced and 80% chance of it doing well at 20 years (See NJR)

Read More
on General Arthritis